Make Australia 'make' again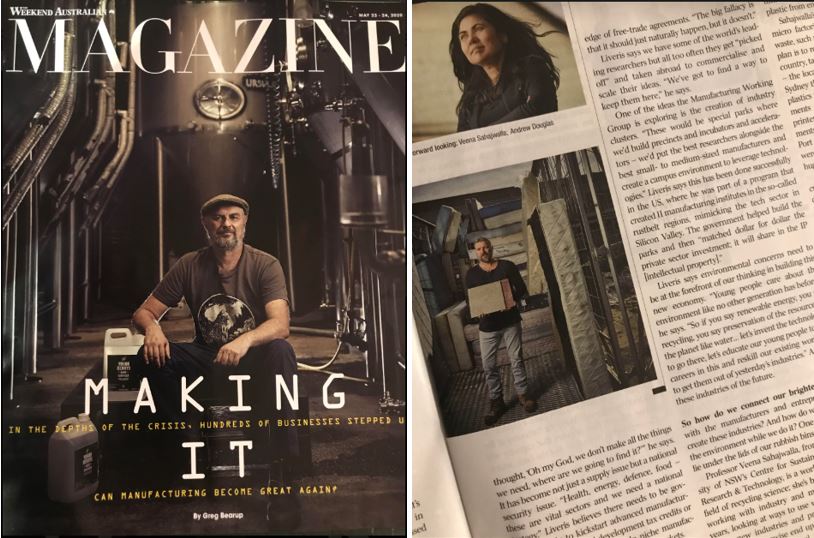 In this The Weekend Australian Magazine news story, our Director, UNSW Professor Veena Sahajwalla, talks about the importance of managing our waste like 'renewable materials' as we seek a new sovereign capability to support ourselves in the face of a crisis like COVID-19.
Read the full story online (note this is a paid subscription site – below is an excerpt.
Former Dow Chemical Company CEO Andrew Liveris, who is now advising Prime Minister Scott Morrison on the way forward, says manufacturing in Australia is in need of a radical overhaul. "It needs a ­public-private partnership that, hitherto, Australia has been loath to adopt, because we believe that free markets should do it all," he says. "Well, big news, free markets don't."
Liveris says environmental concerns need to be at the forefront of our thinking in building this new economy. "Young people care about the ­environment like no other generation has before," he says. "So if you say renewable energy, you say recycling, you say preservation of the resources of the planet like water… let's invent the technologies to go there, let's educate our young people to seek careers in this and re-skill our existing workforce to get them out of yesterday's industries." And into these industries of the future.
"The lucky country needs to become the smart country, because we are running out of luck," says Dr Jens Goennemann, the CEO of the Advanced Manufacturing Growth Centre (AMGC), a body set up under the Abbott government to promote the manufacturing sector.  Manufacturing is not a sector but a capability, he says. "Health is a sector. Agriculture is a sector. Pharmaceuticals are a sector. Mining is a sector. Manufacturing is a capability… My view is that the more capability a country has, the better it can pivot in any crisis."
So how do we connect our brightest minds with the manufacturers and entrepreneurs to ­create these industries? And how do we look after the environment while we do it? One answer may lie under the lids of our rubbish bins.
Professor Veena Sahajwalla, from the University of NSW's Centre for Sustainable Materials Research & Technology, is a world leader in the field of recycling science; she's been successfully working with industry and manufacturers for years, looking at ways to use waste materials to create new industries and products from stuff that would otherwise end up in landfill. One of her inventions, Green Steel, uses shredded tyres and shredded plastics in the steelmaking ­process. Instead of using coking coal, the tyres and plastics are pumped into a furnace at very high temperatures to provide the carbon needed to make steel. This elegant invention has been commercialised by Australian steelmakers and the IP has been sold abroad to make millions of tonnes of steel, saving mountains of tyres and plastic from ending up in landfill.
Sahajwalla's team has also been working on micro factories that use robots to mine useful waste, such as old computers and televisions. The plan is to roll out these micro factories across the country, tapping valuable resources at their source – the local dump. At its E-waste micro factory in Sydney the team has successfully transformed the plastics from clapped-out office printers into filaments (printer plastic) that can be used in 3D printers. In recent weeks it has used these filaments to make face shields for health workers at a Port Macquarie hospital – all from materials that were once bound for landfill. There is currently huge worldwide demand for 3D filament.
"Imagine if you could make filaments that were customised for different applications… we are doing just that," Sahajwalla says. Copper has been shown to have antibacterial properties. "So imagine you could print door handles for use in hospitals, a premium product, that had copper particles embedded in them." It is just one of the ideas her team is working on. "Let's join the dots between that and the manufacturers and – shock, horror – we could actually be the country that is exporting high quality plastic filaments around the world." All made from rubbish.
Sahajwalla has had phenomenal success working with industry in solving problems, such as reducing landfill, while developing new and ­innovative products. Thanks to her team, a new manufacturing industry is blooming in the NSW Riverina making high-quality tiles from old beer bottles and manky mattresses.
More than a decade ago, Andrew Douglas began Mattress Recycle Australia (MRA), operating out of Cootamundra. "Mattresses are the worst thing for councils because they are big and bulky and they take up a lot of space in landfill, which is not good," says Douglas. Councils and individuals pay him to collect them. MRA then uses heavy metal shredders to deconstruct the mattresses. Magnets pull out the steel, which is recycled, and industrial blowers then separate the wood from the textiles. The wood can be reused but in the early days they were still left with a lot of waste textile. "About seven years ago I approached Veena and her team and said, 'Look, this is a big problem, we need to find a solution for all this textile waste,'" says Douglas. And they did.
Scientists and engineers from UNSW worked with Douglas and his team at MRA to develop incredibly strong, high-quality tiles made from glass bottles crushed into fine particles and the fabrics from the mattresses, which are mixed with a binder and pressed. "It has the equivalent strength of Caesarstone," he says. Douglas, in ­conjunction with UNSW, recently won a contract to supply tiles to the giant construction company Mirvac. The factory is modular, he says, so they can move it to where the waste is.
The same process could also be used to make kitchen benchtops and, along with the scientists from UNSW, they've been exploring the possibility of using waste fabrics to make ceiling insulation. "It is mind-bending," says Douglas. "You look at it and think, 'Wow, that's a pretty good looking tile' and when you break it down it's a few old beer bottles and a smelly old bed."